Shop & Café in Yanagi-machi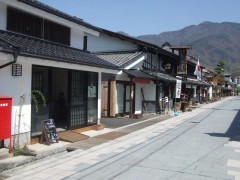 Our winery is located away from the city center and opens on weekends and holidays only; however, we have a shop in Ueda City, which is easily accessible from its city center, for wine-lovers like you.
Located on a historical street of Yanagi-machi, just a 10-minute walk from Shinkansen bullet train's Ueda Station, our shop-café sells a selection of our wines, juices, jams and original sundries. Of course, wine-tasting is also available. The building (the one on the left in the picture above) was built to blend well with the surrounding traditional buildings.
Open for Lunch and Dinner
Lunch: 11:30-15:00 (last call)
Dinner: 18:00-21:00 (upon reservations only)
Café & Bar: 10:00-18:00 (last call)
Shopping: 10:00-18:00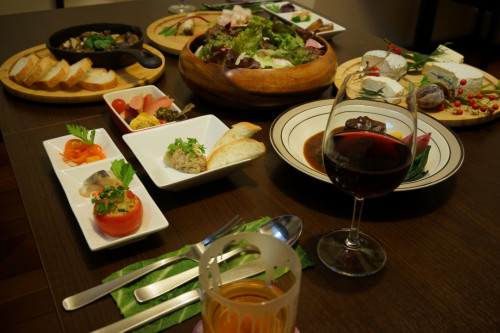 It is a great place to wine-and-dine, or simply drop by for a little bit of rest after a walk along the historical street. It's also a great spot to do some souvenir shopping and wine-tasting. Please come and visit us!

For reservations, please call +81-268-75-0450 or click the "Reservation Form" at the top of the page and fill out the form three business days in advance.
We will contact you to confirm your reservation upon receiving the form. If you do not receive our confirmation, please contact us.
Hasumi Farm & Winery Shop & Café @ Yanagi-machi, Ueda

Address: 4-7-34 Chuo, Ueda, Nagano 386-0012
Tel: 0268-75-0450
Open: 10:00 a.m. - 7:00 p.m. (open for dinner until 9:00 p.m. upon reservations only)
Closed: Wednesdays
Location:
- 10-minute walk from Ueda Station on the Hokuriku Shinkansen bullet train
- 10-minute drive from the Ueda-Sugadaira Interchange on the Joshin-etsu Expressway (parking available)
- Next to Okazaki Shuzo, a sake brewery.