About Us
Preface
I love grapes. The love for them – and the conviction for growing ideal grapes – got me started in growing grapes here in Tōmi City, Nagano, Japan.
With a small amount of capital and with help from a few local acquaintances, I moved to this town in order to chase my dream. Some said that such an endeavor would be reckless, and others thought that I was kidding. I had many worries at first, especially because I did not know much about this place. Fortunately, the local people were really nice here and I was able to commence, despite the modest size of my farm. With the support of many people, the farm and winery are both growing little by little each year, and we are growing grapes with delight and producing wine in this local community.
Even though we are still in the process of finding our footing, I would like to continue this endeavor to the best of my ability so that I can realize my dream. Thank you.
Nick Y. Hasumi, CEO
Hasumi Farm & Winery, Ltd.
About Tomi City
Hasumi Farm is located in Tomi, Nagano, Japan, which is about an hour away from Tokyo via bullet train.
Tomi City has a population of about 30,000. A quarter of its population ply their trade in agriculture, the city's main industry, and cultivate crops such as Kyoho grapes, walnuts and asparagus, among others. There xklare many historical buildings in the city; of which, Unno Posting Station is particularly famous for its traditional townscape. The city is also known for its great hot springs.
With little precipitation, long hours of sunlight, large temperature fluctuation between day and night, and great drainage of land due to the city's gentle slopes, Tomi is a great place to grow grapes for winemaking. According to a researcher at the University of California, Davis, which is famous for viticulture and winemaking, Tomi's climate is comparable to that of Champagne and North Burgundy.
Founder's Profile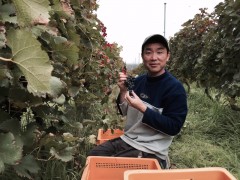 Nick Y. Hasumi, CEO/COO
Although Nick is originally from Aichi Prefecture, he spent much of his formative years in the US, having graduated from high school and university there. After graduation, he worked for Major League Baseball, and then for a Japanese manufacturer as an overseas sales manager. He then obtained an M.A. in Governance Studies from the Graduate School of Governance Studies of Meiji University (2015).

Having traveled to more than 60 countries, Nick is amazed by each country's local gastronomic culture, and in particular, the wines each country had to offer. After working for a Japanese winery and gaining insights about the wine business from grape-growing to brewing and sales, he decided to establish his own winery. In 2005, he moved to Tōmi City, Nagano Prefecture, Japan, and founded Hasumi Farm to grow grapes for wine as well as Kyoho grapes. As for wine grapes, he planted the saplings one by one.

The first vintage was brewed and released in 2009 on consignment. The winery was established the following year, and started brewing its own wines in 2011. In 2013, the winery was incorporated and became Hasumi Farm, Ltd.

Nick has been Tōmi City's assemblyperson since 2008 and has been involved in various town development activities.

He authored a book on his stories behind establishing his own winery, "Founding a Winery from Scratch" (Koyusha).

For more details, please visit our Facebook page: http://www.facebook.com/hasumifarm.

Favorite grapes: Koshu, Albariño (Spanish wine grape)

Favorite food: All kinds of food apart from watermelon

Favorite countries: Cuba, Myanmar, Spain, Germany