代表挨拶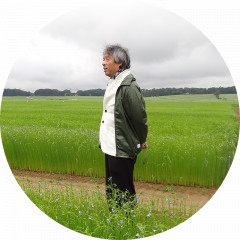 ケンランドは1948年にニットメーカーとして創業しました。
これまで蓄積した経験と技術を生かし、
デザインから製造・販売までを全て山形の自社工場で行っております。
私たちは常に快適なライフスタイル(アメニティー)を求めて、
数多くのテーマにチャレンジして参りました。
その中でも、麻(Linen/リネン)のニットによる商品化は大きなチャレンジでした。
リネンによるニット製品の開発は一般的に難しいと言われております。
また、日本ではリネンはあまり馴染のない商材かもしれません。
しかし、四季の変化が大きな日本だからこそ、
年間を通してリネン特有の肌合いを感じることができます。
このような信念をもとに開発を続け、ついに商品化に成功しました。
私たちのリネンに対する熱い思いは、たくさんの方から評価をいただくことができ、
それは私たちにとっても大きな励みとなっております。
ニットによるリネンのコレクションは、
皆様に新時代の幕開けを予感していただけることと思います。
これからもケンランドは、人類最古の繊維であるリネンを用いてチャレンジを続け、
最先端の世界を切り開いて参ります。
今後のケンランドにも、是非ご期待ください。
Kenland Inc. was established as a knitting manufacturer from 1948. We make use of our accumulated experience and technology, we undertake the end-to-end process from design to manufacture and retail from our company in Yamagata city.
 For a long time, we have embraced many themes and aim for the ultimate comfort to suit your life style all year round. Above all, our biggest challenge is the commercialisation of linen knit.
 Generally speaking, the development of linen knit items is difficult. Also, linen knit is a product that may not be well known in Japan. However, we strongly believe that linen is the product which is the most amenable to be worn throughout the whole year. In particular, Japan has wide diversity between the four seasons so we can enjoy the unique feel of linen throughout the whole year.
 Based on this belief, we continually develop to succeed in completing goods for sale.
 We receive positive feedback regarding our linen philosophy from many people and it is very encouraging for us. Even in Europe, the home of linen, our linen received a favourable review. We were invited to CELC 1st international congress in October, 2012 and we made a presentation as the only sole manufacturer in the world. We seek to create a relationship between traditional European linen and a more natural & gentle linen. This method made a big impact in Europe.
 And, because we have represented faithfully the natural and original characteristics of linen, we are able to help people realize the charm of linen.
 We think that everyone can anticipate the dawn of a new era that includes knitted linen collection.
 Kenland Inc. will continue to embrace the use of linen, which is the oldest fibre known to mankind.We want to be at the forefront of this globally.
 Please expect Kenland Inc. to continue this trend into the future.
Copyright(C) 2013 KENLAND INC. All Rights Reserved.